DESCRIPTION
Riotec DC9277A GODASCAN 1D CCD Wired OTG Barcode Scanner
The Riotec DC9277 GODASCAN 1D CCD barcode scanner is a unique Plug and Play wired scanner for Android OTG phones, that will enable any Android PDA and smartphone to become a barcode scanner.
Product Description
With the Internet of Things (IOT), Android/iOS Smartphone becomes the tool for data collection. RIOTEC develops the "GODASCAN" which applied for Android/iOS smartphone use.
DC9277A: Plug and Play (Wired, for Android OTG phone)
With appropriate APP, the Android Smartphone becomes data collector.
Touch trigger, Easy Operation
GODASCAN can be used for different size of iOS / Android devices. (from 4" to 6" size)
The back of GODASCAN has PU glue / sucker which can be stuck on smart-phone strongly. PU glue can be repeatedly used.
GODASCAN has Li-Ion battery inside which provides power to scanner.
You don't remove GODASCAN when in charge. You can charge both GODASCAN & smartphone through its micro USB port directly.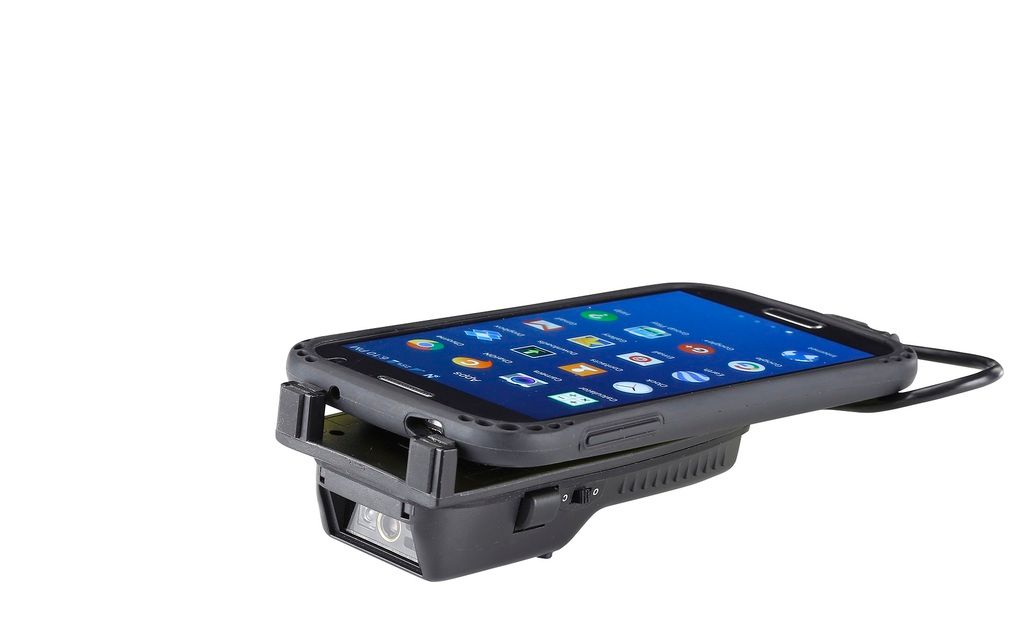 Specifications:
Scanner Specifications:
Model Name DC9277A
Description Wired GODASCAN
Engine Ultra-long-range CCD engine
Performance Characteristics
Light Source 610nm~640nm Red LED
Depth of Field UPCA (13mil): 50mm~620mm
EAN13 (13mil): 50mm~610mm
Scan Speed 300 scan/sec
Best Resolution 4 mil
Print Contrast ≧30%
Scan Angle Pitch ±60° @ 0° Roll and 0° Skew
Roll ±30° @ Pitch and 0° Skew
Skew ±60° @ Roll and 0° Pitch
Indicators beeper
Charge Micro USB port
Symbologies EAN-13, EAN-8, UPC-A, UPC-E, ISSN, ISBN, Codabar, Code 128, Code 93, ITF-6, ITF-14, Interleaved 2 of 5, Industrial 2 of 5, Matrix 2 of 5, GS1 Databar, Code 39, Code 11, MSI
Interface USB OTG
Electrical Characteristics
Input voltage 5 V/DC ± 5%
Current - operating 170 mA
Radio Range   BT Class 1 (100m, in open area)
RF Frequency   2.4GHz
Communication   HID profile, SPP profile
Battery Type   3.7V 900mAh Li-Ion battery
Scans per charge: more than 25,000 scans when fully charged
Charge Time   4 ~ 5 hours
Current Charging 500 mA Max.
Power cable Micro USB cable
Physical Characteristics
Dimension 125 X 52.5 X 35 mm (L * W * H)
Weight 88 g +/- 5 g
User Environment
Temperature-operation: '0°C to 50°C
Temperature-storage -10°C to 60°C
Humidity-operation 20% to 95% relative humidity, non-condensing
---
---
Customers who bought this product also purchased...