DESCRIPTION
Generalscan GS-R1000BT-PRO 1D laser bluetooth Ring Barcode Scanner for iOS and Android
The Generalscan GS-R1000BT-PRO offers enhanced functionality over the standard GS-R1000BT version with longer scanning distance scanner (such as 5mil code 128 barcode, max. scanning distance is 7.87cm; 100mil code 39 barcode, max. scanning distance is 457.2cm,) ,and NFC Bluetooth automatic pairing function
Smart Mobile POS is pleased to launch the Generalscan Tiny wireless GS-R1000BT-PRO 1D laser bluetooth Ring Barcode Scanner, the latest in wearable Bluetooth ring scanner technology. Smart Mobile POS is offering the GS-R1000BT-PRO as part of its latest product portfolio from Generalscan and sees the growth in mobile scanning technology using consumer smartphones and tablet PCs with either iOS or Android operating systems, reducing the cost of ruggedised devices with embedded scanner technology. The GS-R1000BT-PRO offers alot more flexibility when used in warehousing applications, as the user can still pick and place while wearing the ring scanner on their finger.
Features:
1D Laser Mini BT Longer Scanning Distance Ring Barcode Scanner Kits (Support off line data collect, USB-HID or USB-VCP(USB Serial)wired connection and Bluetooth HID or Bluetooth SPP wireless connection, work with IOS, Android, Windows phone, Windows OS, etc.), which includes R1000BT-Pro longer scanning distance scanner (such as 5mil code 128 barcode, max. scanning distance is 7.87cm; 100mil code 39 barcode, max. scanning distance is 457.2cm,), Micro USB cable, yellow hook & loop strap, user guide, lanyard , CD and NFC Bluetooth automatic pairing function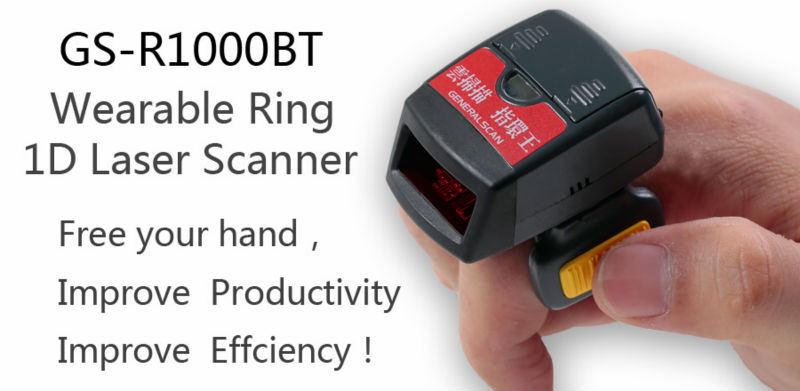 Product Introduction
The GS-R1000BT-PRO is a 1D Bluetooth Wearable Ring-style Barcode scanner in a small compact case and offers a powerful new generation of barcode scanners. It is designed for picking and sorting warehouse applications, enabling the operator to free hands and improve operational efficiency in the warehouse, distribution center and retail stores. The user never needs to set an item down to check paper work order or have to pick up the handheld to scan boxes. The operator doesn't even need to put a heavy package down on the desktop to scan and therefore will save time and strength over long periods of time while in the warehouse. Compared with other common wired handheld scanners, the GS-R1000 BT-PRO wearable scanner can increase productivity by 15% -30% for each operator!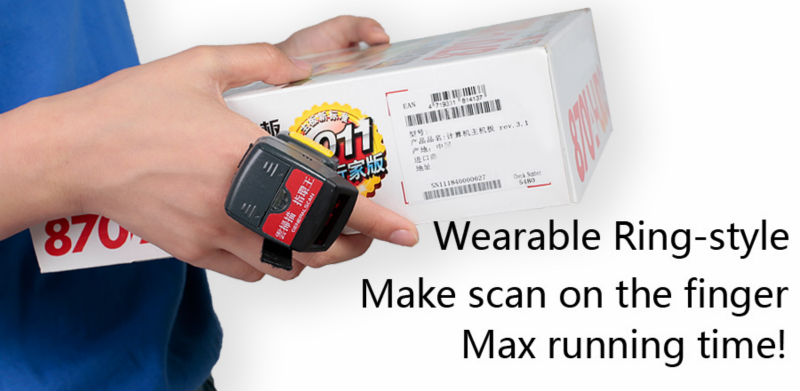 The Generalscan GS-R1000BT-PRO wearable ring scanner enables the operator to move packages, products and materials; therefore helping to increase efficiency. It is very comfortable to wear over a whole working day, with a high performance laser scan engine. The device even works well with poor printed barcodes can read the easily. The rugged rubber shell makes daily use reliable even in the roughest environments and comfortable to wear as there scanner is much smaller and more compact than other ring scanners on the market.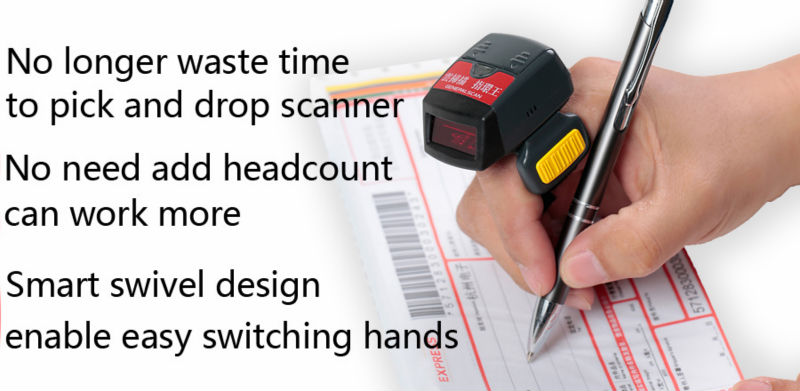 The GS-R1000BT-PRO wireless function allows unparalleled freedom of movement while scanning and the user avoid dropping the device on the floor and damaging scanner while wearing on it their finger. The device is securely fitted to the operators finger via adjustable Velcro straps that can be loosening over long working hours. Super Class2 bluetooth technology and long range 2.4G antenna make you transfer data with 20M distance .The user never needs to increase headcount to finish more work if each operator is equipped equip with a GS-R1000BT-PRO wearable ring-style scanner. At the same time ,we provide RS232 and USB version to connect PC and Electronic label shelf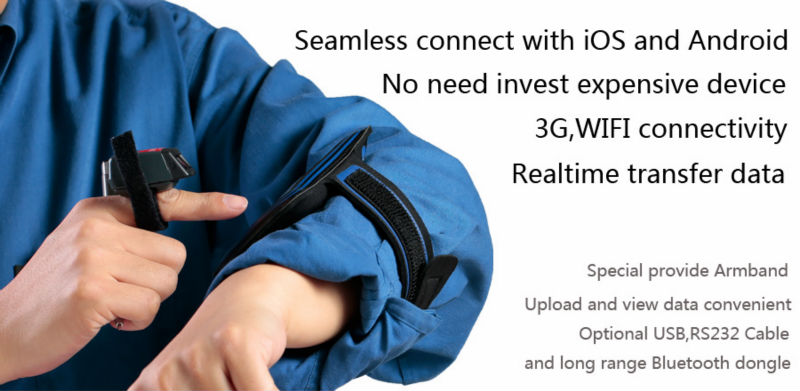 GS-R1000BTPRO can connect with iOS and android smart phone easily .Special design bluetooth protocol ,you can scan barcode into iPad and iphone directly without install any software ,double push trigger button ,you can display and hide soft keyboard in iOS and has enhanced auto-pairing function.
Application
GS-R1000BT can be replace the traditional ,heavy ,expensive data collection terminal,you can use it for any mobile barcode scan application with your smartphone such as express logitics ,warehousing ,freight forwarding,product barcode traceability,asset management,shopping mall and super market.